GPD MicroPC: Making space for a 2280 M.2 SSD: Displacing the battery.
(For a discussion: See here on reddit.com.)
Implementing my plan to fit in an 2280 M.2 SSD in my GPD MicroPC (a 6" x86-64 laptop with loads of connectors), I tried to make space by moving one battery cell.
Before: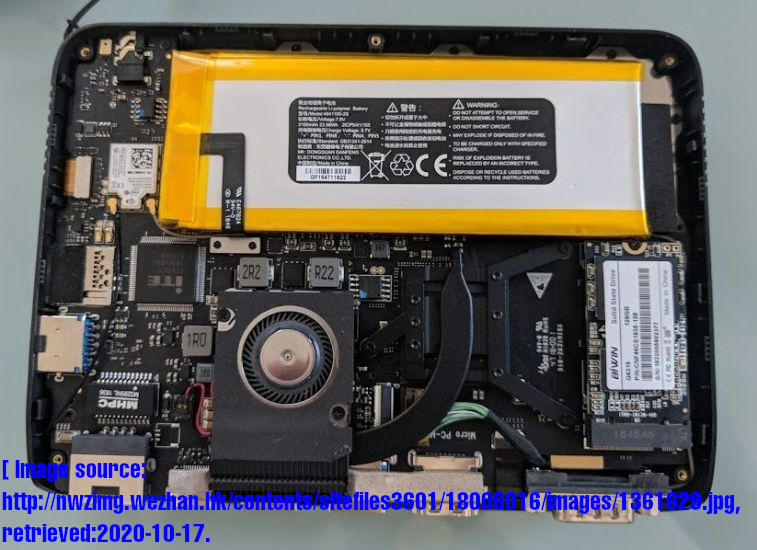 (Image source: GPD, nwzimg.wezhan.hk/contents/sitefiles3601/18006016/images/1361629.jpg, linked from gpd.hk/newsinfo/204174.html, retrieved:‌ 2020-10-17. This image is not by myself.)
Originally, there is only space for a 2242 M.2 SSD (42 mm long), and is very difficult to find SSDs in that form factor above 512 GB (as of mid 2020, only un-trustworthy no-name manufacturers supply storage size up to 1 TB).
The most common form factor for M.2 SSDs is 2280, these are 80 mm long. But they cannot fit in in the GPD MicroPC because the battery is in the way.
Two possible modifications came into mind to make them fit in:
Using an extender cable and cutting out a hole in the bottom of the case to fit it there, similar as this example with the GPD Win (discussion: here),

(Image source: Reddit user "Hunam_", s8.postimg.cc/i8fkmz011/20180812_173002.jpg, linked from reddit.com/r/gpdwin/comments/9229qf, retrieved:‌ 2020-10-17. This image is not by myself.)

displacing the battery to make space for a longer SSD in it's original space.
This approach was choosen by me and is described below.
The battery consists of two cells, attached to each other with double side adhesive tape, and soldered to a small electronics board. Each cell has a nominal voltage of 3.8 V, making a battery pack with a nominal voltage of 7.6 V.
The work was carried out with a battery which was almost discharged to reduce the risk of fire in case of accidental mistreatment. During all solderings extreme care was taken to not create short circuits.
First, the single cells had to be detached mechanically. Because the adhesive tape was too strong to simply pull them apart without the risk of mechanically damaging them, a credit-card sized bank card was used, like a blunt knife, to go in between the cells and slowly push away the adhesive and little by little get the cells apart.
Then, the top cell had to be moved to the left, to make space for the longer SSD. Because the battery's electronics board then would not have space anymore (it cannot be moved far since it has a short connector cable to the main board), the lower cell had to be moved to the right so that the board can sit under the top cell close to it's original position.
For moving, the top cell has to be desoldered and attached with extension wires to the battery's electronics board. Desoldering is possible directly on the electronics board: Although the battery's contacts are spot-welded, the pieces where they are welded to are soldered flat to the electronics board.
Also, there was a temperature sensor attached to the upper cell. It had to be removed and re-attached to the lower cell, because it's cables are not long enough to stay at the upper cell.
Note that the connector cable from the battery to the main board initially went over both cells, and now has to go between the cells.
Finally, some plastic had to be removed from the lower cover of the MicroPC's case because otherwise it would not close anymore -- the upper cell, which is moved left, has also to be moved a bit more to the front edge of the computer because otherwise it is in the way of the speaker.
Now there is space for a 2280 M.2 SSD, I got a 2 TB one. Since the bolt for the 2242 SSD is soldered to the main board, it cannot be removed. So some insulating tape is applied to it to not make a short circuit on the 2280 SSD. After installing the SSD, it is mechanically fixed with some tape, and after closing the case, the case will also help holding stuff in place (small piece of elastic foam applied).
Below are pictures of the process. Note that I first had to find out how to do it and in that process I desoldered both cells. When reattaching them, I had them swapped.
Also, I did not take care in the first place that the connector cable has to go between the cells.
With all the extra work, I might have slightly damaged the battery connector cable: Sometimes the computer does not show any charging or discharging data (although it will still run without power supply) and will also not charge in that cases. Slight force on the cable seems to help out, I‌ need to observe & investigate, and for the next time I now know better.
Somehow, the connector on the mainboard got some extra metal piece which got misaligned and caused a data wire to be shortened when the battery cable was properly fastened with pressure, resulting in missing charge state report. It could be fixed:
Warning and disclaimer.
Only perform such work when you know what you are doing and have some electronics and good soldering proficiency. It is very easy to destroy your battery or even your computer, and risk of fire if you mechanically damage or short circuit or in any other wise mistreat the battery cells or damage the battery electronics board.
I take no responsibility whatsoever for what you do. On this website, I only documented what I did to my very own device. This is not an instruction for others to follow.
Copyright and licensing.
All content presented on this page is, except where explicitly noted otherwise, genuine work of myself, and I claim all rights on that information.
Information present on external links (this are links which leave the domain where this site is hosted) do not fall under my responsibility and are not to be assumed that it is work of myself. I also do not provide any responsibility for information given there, nor do I claim to agree with information given there. Information given in external links may or may not coincide with my own position, and all responsibility and rights stay with the provider of the information given at externally linked content.
---
Text-content lastly updated: 2020-10-18, 15:25:13
Page lastly generated: 2021-01-22, 16:37:31